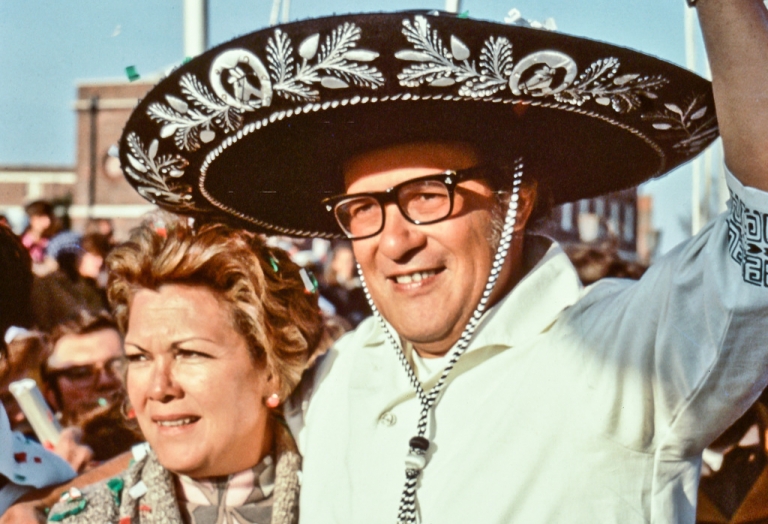 The Volvo Ocean Race is saddened to hear that Francisca Larios, better known as Paquita, has passed away in her native Mexico aged 91 years old.
Paquita earned her place in Race history by stepping onboard winning yacht Sayula II for the first leg of the first ever edition of the race.
She later admitted that she hated being onboard – and after 44 days at sea, cooking, taking care of the crew and making tequila cocktails, she left the boat in Cape Town, vowing never to return.
She continued to support the boat – featuring her husband, son and nephews – from shore. In May 2017, Volvo Ocean Race's Nacho Goméz caught up with Paquita to get her memories of that first ever race. The full interview is below.
You were one of the first women to take part in the race…
Yes, that's right. I was on board for 44 days and at times I wished I'd never been born! It wasn't all great, but in the end it was an amazing, beautiful experience.
How did you manage to survive those 44 days to Cape Town? It must have been hard…
It was tough from my point of view because I was alongside people I didn't know and I didn't even speak English. It was a lot of things – different customs, all day in such a tiny space, but everyone was really beautiful. I love all of them because they were such gentlemen. We had parties and everything, it was always alright. The way they smelled bothered me a little and I always used to tell them to go and bathe and the poor guys would go and do it. Everything was beautiful, really. It was such an incredible experience.
What was your role?
I helped a lot with making the food and I used to do handicrafts on board. It was all about helping where I could.
© Bernardo Arsuaga archive
It wasn't freeze dried food in those days, right?
No, it was all fresh food. We had a freezer and Ramon filled it up with meat. There was also canned food, but mostly it was fresh. We had wine, tequila, everything. We were never short of anything and I even had chilis with me and people could add however much they liked. We had a lot of good things.
Your son was on board, as well as your husband…
Yes, my son Enrique was a student in Ireland. He'd wanted to get married at just 17 and my husband managed to make him forget. Ramon found out about the Whitbread when he was visiting Enrique in Ireland. We had Sayula I at that time but it was very small and we needed a bigger boat.
Why did you get off in Cape Town?
I would have got off halfway to Cape Town if it had been possible! But I'm not someone who's fickle. I'd always said I'd go as far as Cape Town and no further. I got off there because I had my daughters, who were only young then. I couldn't leave home for such a long time even if I had my husband and son on the boat.
And did you enjoy sailing?
I really don't like sailing, I have to say. If you ask me if I'm passionate about the sea, I have to say absolutely not. I've still got no idea why I got on board in the first place. I was out shopping with my husband and when he asked me if I'd like to join the race with them I said no, definitely not. But my passion is my only son, and I love him with my whole soul, like all my children. I asked him to let me think about it and after a while I told him I'd go, and so I'd given my word. It was all very beautiful.
© Bernardo Arsuaga archive
How did you follow the race once you were back on land?
It was a wonderful thing. When I was back in Mexico I had almost no communication with him. I've got no idea why we didn't use the radio. We knew where they were via some friends, who had some way of locating them. We could see that everything was going well, and that's how it ended. At the end I went to England with my sister in law and a friend. People tried to understand me even though I couldn't speak English. Everyone was great and we had an amazing time. Everyone looked out for me when we went down to the bar. I had a great time and it was incredible to see Ramon arriving.
The Weekend Sailor, Bernardo Arsuaga's feature documentary about Ramon and his incredible victory, was released last year. What did you think of it?
Bernardo's film is very beautiful. When they did the mass for Ramon a year ago the priest said he'd followed the whole journey. It is something precious.